Vivid Racing Presents: CLA45 AMG Armtrix Valvetronic Exhaust System
MSRP $2,880 + 500$ Freight Air. PM, call, or email for CLA FORUM Exclusive Pricing!



[email protected]

| +1.480.966.3040 x243 | www.vividracing.com
Get the ultimate exhaust system for your Mercedes CLA45 and let the 2.0 Turbo BREATHE! The Valvetronic system from Armytrix offers the best of both worlds in terms of exhaust systems. Having the ability to change the tone on the fly allows you to be stealth or loud when you deem necessary. This system not only produces great noises, there are performance benefits as well. It is 12 Pounds lighter than the factory system and has power gains of up to 20 HP and 34NM of Torque. You also have a choice of personalizing the exhaust tips with standard polished, Titanium Burnt Style or Matte black.

Upgrade to an Armytrix Exhaust system today! Automotive Weaponized!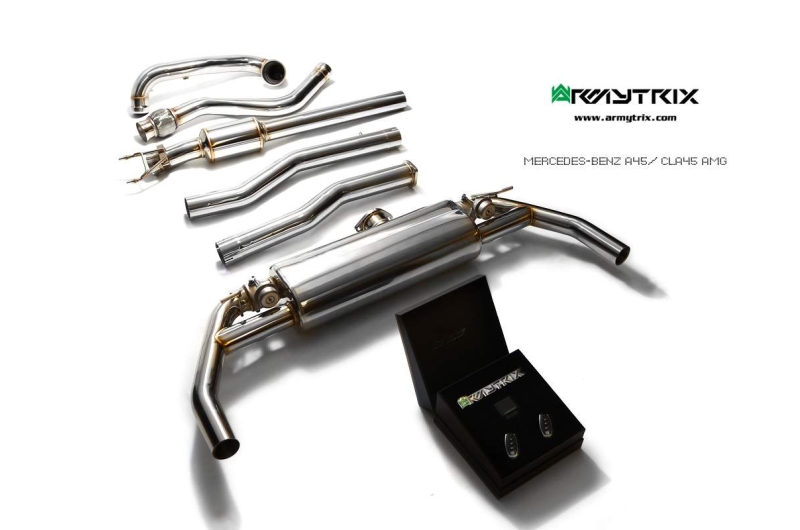 Also Available are Optional "Race" link pipes for the front section of the exhaust MSRP 980-1390
Ordering:
Phone
:
You can reach me directly by calling +1.480.966.3040 x243 to place your order over the phone.
Payment Methods
:
- Credit/Debit Cards (Visa, MasterCard, Discover, American Express)
- PayPal
- Affirm – Now you can finance your parts!
- Bank Wire
- Bill Me Later
- AZ Orders will incur 7.8% sales tax
- All international orders (outside of US and Canada) require Bank Wire or PayPal
Shipping
:
We have very competitive worldwide shipping rates. Most orders leave via FedEx, however we do use UPS, DHL, and various freight companies. The most efficient shipping method takes precedence. Expedited shipping is available by request.
Hours of Operation
: We do not observe Daylight Savings Time in Arizona
March-October: M-F 9am-6pm PST
November-February: M-F 8am-5pm PST
We are closed for business Saturday and Sunday
Contact Information
:
Phone: 480.966.3040 x243
Email:
[email protected]
Website:
www.vividracing.com
Please feel free to contact me via PM, Email, or Phone if you have any questions.​